After being alerted to an awesome photo contest that was all about colors by my friend Jason Teale, I knew I had to join. I enjoy all aspects of photography, but the use of color and imagery to draw a viewer to the subject of a photo is a challenge I truly love. Below are five photos that I believe "Capture the Color" of what I have been blessed and privileged to see throughout my travels.
Blue

I grabbed this photo while taking in Carnivale in Venice in 2007. Blue is my favorite color, so when I saw these two revelers, I knew I had to take this shot. The masks are not only beautiful, but also mysterious. I also liked how the texture of the material make the photo seem almost a little icy. (Incidentally, this is my wife's all time favorite of my photos.)
Green

This photo is one I treasure. After the long hike up the top of these rice terraces, I looked out over the landscape and just had to pause at the beauty of the place. When I saw this farmer with his back to the view, going about his work, I had to wonder how he kept himself from looking back all the time to see what he had created.
Yellow

I love looking up to take photos! This is a simple photo taken from directly underneath The Eiffel Tower in Paris. At night, the tower lights up and puts on a great show. But not many people think to look up when walking right underneath!
White

I took this photo while waiting for a little friend who was enjoying her time on the Carousel. The movement of the whole apparatus, decorated with white lights for Christmas, really grabbed my attention. I couldn't help getting this motion on camera by holding the shutter open.
Red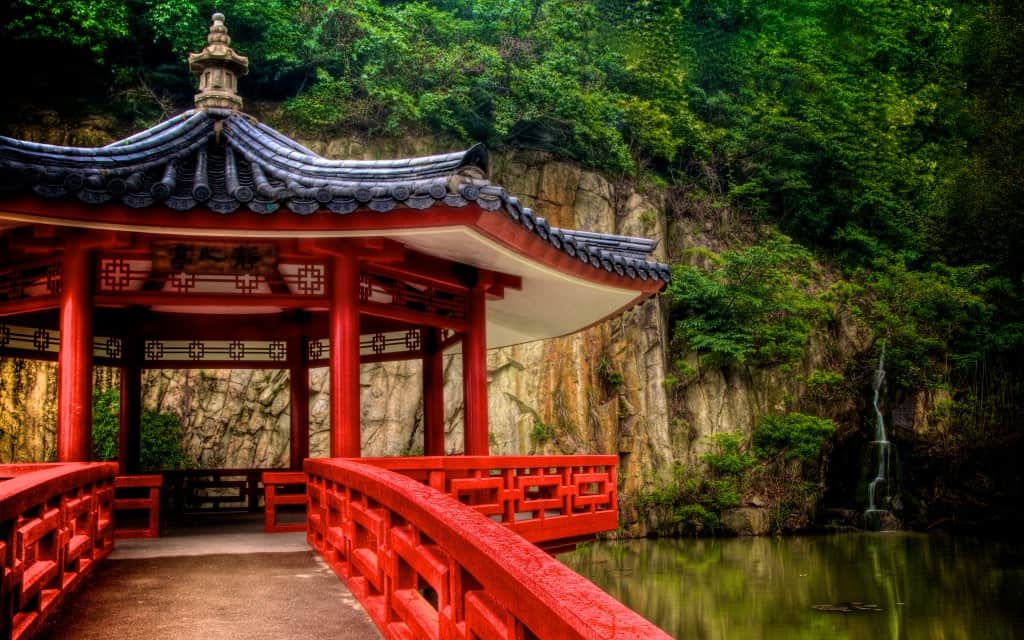 While living in Korea for two years, I saw a lot of gazebos, temples and pagodas. This one, however, really captured my imagination with its unique and secluded setting. I had to wait for a while for the rain to stop to get this shot, but it was worth it.
Thanks so much for taking the time to view these photos. I love photography and sharing with others the amazing scenes the world has to offer.
Nominations
Here are the 5 bloggers that I am nominating. If your name is not here and you think that it should be, no worries you can enter anyway. Just check out the link and make your own post. These are people who I greatly admire in both their photography skills and vision and find to be inspirational.
The 5 bloggers that I nominate that I think should participate in this contest are:
---
Big thanks to
One Source Network
for providing us with the
Velbon UT 43D
tripod as many of the shots in the post would not have been possible without it.