Experience the warmth of our people during an evening of ceremonial rituals, powerful cultural performance, storytelling & hangi feasting!
One of the things that I was most looking forward to about visiting New Zealand was getting to know a little more about the Maori culture. I had heard little pieces of information about the indigenous people of this beautiful place, and was interested to learn more. Although Maori people make up more than 14% of the population of New Zealand, it is still difficult to get much history about the culture, short of just asking someone.
Then we heard about the Tamaki Maori Village in Rotorua. We quickly signed up for this unique learning experience.
Our bus arrived at our hostel right on time and we were greeted by both the driver and a guide. As we made our way to the village, the passengers formed a tribe and our bus became an ancient canoe that we paddled along the way. A chief was chosen to represent our group and the guide gave us important information about how the Maori people came to be the first inhabiters of New Zealand.
Upon entering the village, three Maori warriors came make sure our tribes came in peace. Once it was established that we meant no harm to the village, we were invited in.
Inside the gate, the village stands much like Maori villages once did. Groups are free to tour around and watch presentations about village life and even participate in a few dances and games if they like. Maori history and culture is alive and well here.
The group was then lead to an outside pavilion area where our dinner was being cooked via geothermal heating in a pit! We watched as lamb, chicken and vegetables were pulled from the ground, smoking hot and smelling amazing!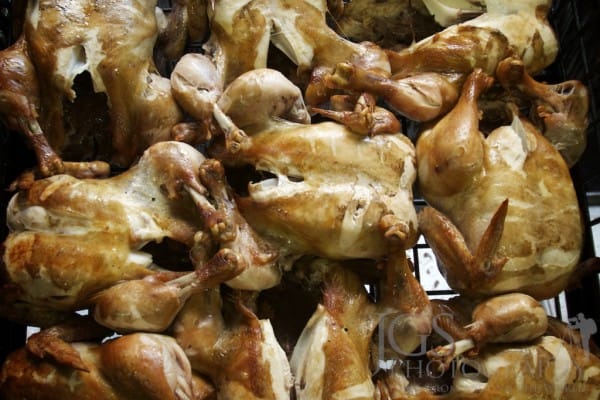 While dinner was prepared, we were treated to a show like no other. The warriors and women of the tribe put on demonstration after demonstration to show us everything from how to keep rhythm during dances, to how to kill an enemy with a wooden paddle. Photography was encouraged, but who could take their eyes away from this spectacular exhibition?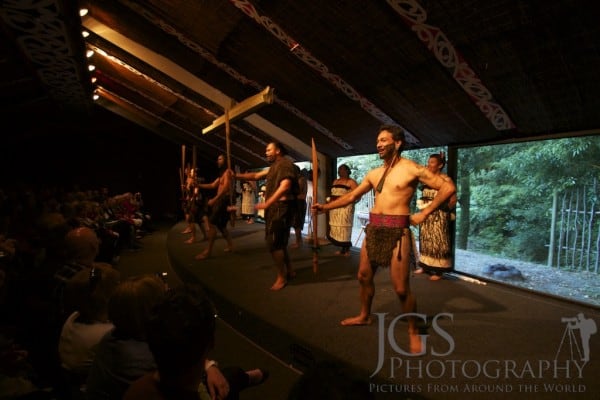 After a short video about even more Maori history, we were ushered into the dining hall for a feast! The very food we saw pulled from the pit earlier had been prepared, along with other treats, and was set out buffet style before us. I'm a little bit of a picky eater, but there was nothing I didn't LOVE about this dinner. When desert came, it was more of the same homemade goodness, including a new favorite, Pavlova!
When all hearts and bellies were full, we set off from the village to return to the modern world. Our driver led us on several sing-a-longs that made the time pass all too quickly.
In the end, this was one of my favorite experiences of our travels so far, and is sure to become a fantastic memory of our trip to New Zealand. If you're visiting New Zealand, I encourage you to give this experience a try. You certainly won't regret it!
If you want to check out this fantastic experience, you can check out their website here. The tour lasts 3 1/2 hours and they will pick you up from your hotel or hostel. They are awesome about giving discounts, so be sure to check with them beforehand or check with your accommodation staff. You'll need to book at least a day beforehand and the tours are available 7 days a week. We also highly recommend skipping lunch on the day of your tour! Please let us know if you go!