In the previous Gear Review, I shared about my quest and findings for the Ultimate Travel Photography Lens. In this post and review I'd like to share with you my quest for one of the things you can buy to make your travel photography go from good to inspiring – a tripod.
As we got ready for the start of our around the world trip, one thing I really wanted to bring on this trip was a good solid, highly adjustable, lightweight tripod that could easily fit into my daypack along with my camera and two lenses while still leaving room for a couple other items like a jacket, sunglasses, some snacks, etc.
I started where most would probably start and that is on the GorillaPod website. I had taken a gorrilapod with me on my last trip and wanted to see what they had to offer that would work with my current DSLR and lenses. They had come out with the GorillaPod SLR since I last checked them out which was a bigger, sturdier, heavier and little more expensive version of what I took with me last time. I decided this would be a good fallback option but felt like there had to be better options available. Don't get me wrong here, I think the GorillaPod is a great option and invention and can work in about 70% or more of the situations I would need it in, but there are many times that I want my camera higher than the less-that-two-feet the GorillaPod allows.
What I was looking for was something with the portability and size of the gorillapod, but the flexibility to allow for shots of up to, or over, 5 feet high as well as the ability to easily adjust to different terrain and angles. Does such a tripod exist anywhere other than in a travel photographers dreams? Yes it does! Read on.
After lots of searching on google, bandhphoto, adorama, amazon and the like, I finally found a company that makes not one, but more than three different versions of a tripod that is light, flexible, portable and incredibly small. It was a company I had't heard of before, but that just may be my nievity as they have been around for more than 60+ years and have a good reputation among photographers.
The tripod I found was made by Velbon and the one I entrusted with my camera, photos and memories for this once-in-a-lifetime trip was the the UT43D. This is a 6 section tripod that fully extends to over 5 feet as a tripod and even higher as a semi-monopod and yet is able to fold down to just under 12 inches making it awesome for travel. On top of that, the weight of only 2.6 pounds makes this thing almost unnoticeable especially when compared to my camera and lenses which, combined, weigh almost 4 pounds by themselves.
FEATURES
The UT43D features an amazingly well thought out system for maximizing height and flexibility while minimizing weight and size. It uses a patented 6-Section Trunnion Shaft System which is a fancy way of saying it uses a pull and twist mechanism to allow the legs to fold over the main camera holding shaft. This is something that so many other so-called travel tripods fail to utilize at the expense of 3+ inches of collapsed length, which is huge when trying to fit something into a backpack with the rest of the gear you need for a year long trip around the world. This same ingenious mechanism also has a slider allowing for three different angles for each of the three tripod legs. Add to this the 6 sections of the tripod and you've got over fifty possible angles for your camera right there not even counting the infinitely changeable lengths in between via adjusting all the sections!
This flexibility has come in handy many times on this trip. One of my favorite tricks utilizing it is when trying to get a shot over a railing with my wide angle lens. Unless the camera is very close or slightly over the railing, the railing will be in the frame and distract from the image. To overcome this issue, I extend two of the legs to almost parallel to the ground and retract them all the way back. I then rest those two legs on the railing itself and fully extend the third leg to stabilize it all. This allows my lens to be right in line with the ends of the railing giving me the angle I need to capture detail below the rail without including it in the image.
This is just one example of many where having so much flexibility has allowed me to capture shots that other wise would would not have been possible.
This tripod has a lot to offer in terms of it being so small to store, tall when fully-extended and lightweight. To give you a better idea just how portable this thing is, here is a picture I took in India of the tripod next to the GorillaPod mentioned earlier. If you are considering settling for a gorillapod for your next travel and photography trip, please reconsider!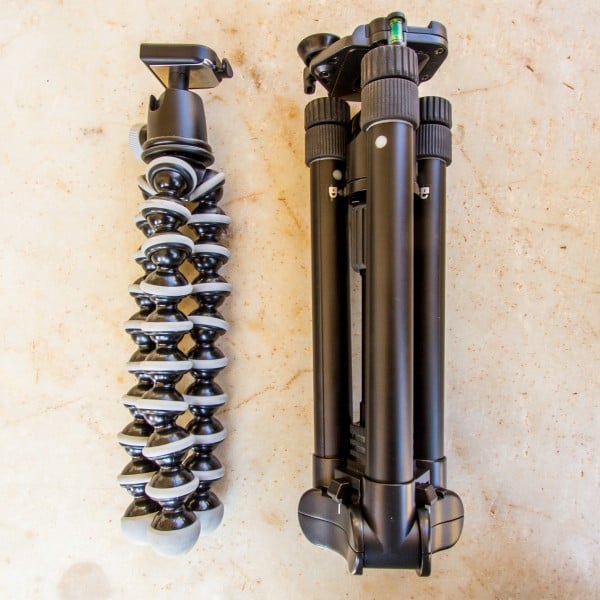 This picture was curtesy of a guy named Michael from San Francisco who happened to be photographing the same Mausoleum I was. When we put our collapsed tripods side by side after he had already seen mine at full height he wrote down the make and model of my tripod to purchase as soon as he returned home;-)
One more advantage of this tripod that could be considered a feature is again how small it packs up. Many of the sites on my travels do not allow tripods for one stupid reason or another and will normally ask those with bigger tripods to check them in at security, put them in a supplied locker or just inform them they cannot use them while visiting the area. With my tripod in my bag I never get told about the tripod rules which can sometimes leave me with about 30 seconds to one minute to get some decent tripod pictures before I get approached and shut down by security.
BUILD
The Velbon UT43D is constructed of tough, solid and light aluminum with a few rubber and plastic pieces for the extension connectors and feet. Velbon even went as far as to make the removable camera mount solid aluminum with a metal connector screw and rubber inset for keeping the camera in place without scratching it.
I have been impressed with how solid this thing is – even allowing me to get this razor sharp shot below with the tripod legs in a moving stream and the shutter open for more than a minute. With a less sturdy tripod, there could have easily been some movement making this image blurred and unusable.
I have been using this tripod for about 2 years now and is has held up very well. Everything on it is still functional and seems to be well built, save a few semi-cosmetic issues I will talk about later.
NEGATIVES
There are really very few negatives I have found about this tripod, but here they are for those interested
The first negative I saw came into existence about three months into the trip and that is that the rubber pieces that allow for easier twisting of the bottom leg piece came loose from the metal thereby making it a little annoying to tighten and loosen. Even still, a year and a half later they are still there and serve their purpose with a little pressure, so not a total waste by any means, but not ideal with them being loose.
The other negatives, and I am searching here a bit, are that sometimes the adjustable leg locks don't always lock in place and also sometimes when they are locked in place, they can move during set up. Once in place these are non issues, but during set up these can slide. They also do show a little ware and tear and the paint has been chipped off where the metal hits each other to stop the legs from angling out to far. Lastly, if I have been carrying the tripod fully extended for a bit and then go to set it up, the legs will sometimes be loosened from the walk and will start to slid in. I don't see this as anything really wrong with the tripod or design, but something to be aware of and I recommend you tighten the legs after walking with it for a bit.
DETAILS
Max Height:
156.5CM
Lowest Height: 29CM
Close Length: 29.5CM
Weight: 1.17KG
Leg Diameter:
24MM
Sections: 6
Ideal Load Weight: 2KG
Split Centre Column: Yes
Images made possible by this tripod
[click to view larger]
---
Big thanks to One Source Network for providing us with the Velbon UT 43D tripod as the shots in the post would not have been possible without it.