About midway through our time in Indonesia, we needed to decide our next destination. Griffin's little sister had set a wedding date, so our time was limited, but we knew we wanted to see all we could of Oceania before heading back to the U.S. So, we booked our next flight to Cairns, Australia, the most popular access point to Australia's famed Great Barrier Reef.
We arrived in Cairns and got settled into our hostel before trying to determine what avenue we wanted to take to get out on the reef. Griffin had been diving before and easily talked me into wanting to give it a try. We looked into several intro-diving options, but they were all pretty expensive. Finally, we found an option that would grant us the opportunity to actually get our diver certification, as well as a way to get our budget around it.
We headed down to the Reef Encounter office to talk with them about their Hostie program. Basically, we needed to go out on the live-aboard boat as paying customers, during which time we would get our diving certificates, then we would stay aboard to help with things like washing dishes and making up beds, etc. In return, we would have free accommodation, free gourmet food, and at least two free dives each day. We figured out that in order to balance out the amount of money we needed to spend as customers, we would need to stay aboard for an extra 10 days. It seemed like a lot of dishes, but we decided to give it a try.
Early the next morning, we boarded the Reef Experience, a day boat by the same company that would dock near the Reef Encounter and serve as a taxi out to our floating hotel.
We settled into our rooms and got started with our course right away. I believe we had the best dive instructor possible in 'Albie.' The guy was patient, fun and extremely talented and knowledgeable. Not only was he a great teacher under the water, but his explanations of theory were easy to understand as well. Eight dives, several hours of book work and a test later, we were certified divers able to dive on our own up to 15 meters.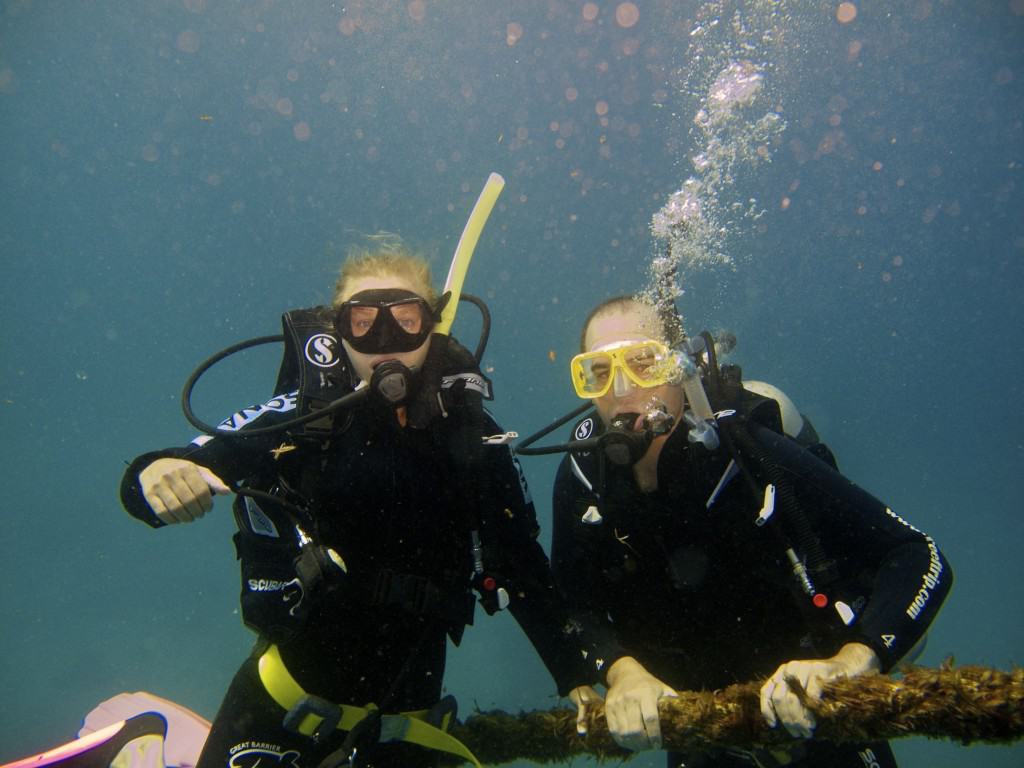 Each time we went under the water was a new experience. It honestly could never get old to me. Sometimes we had an agenda, something special we wanted to see, sometimes we just went for a relaxed exploration. We enjoyed swimming through tunnels, or just peaking into some of the soft corals to see what fish were hiding there. No matter what, we always saw something new and amazing.
As hosties, our days started early with setting up for breakfast. As soon as that was finished, we would go out for our morning dive. From the water, we would grab a quick shower to get the salt water off us and then head downstairs to wash up the breakfast dishes. Then we would spend the rest of the morning cleaning up rooms for the incoming new passengers. Lunch setup, lunch dishes, afternoon cleaning… all just the next steps until we could get in the water again for the afternoon dive at 3:30. After the dive, wash off again, dinner setup and dishes, plating up desert and then waiting to see if there is room for us on the night dive. Head to sleep and then do it all again the next day. By the time we left there, we felt like regular crew members. We stayed aboard so long, we decided to go ahead and get our Advanced certification. Now we can dive down to 30 meters. =) Not to mention, we gained several new friends. Always the best part of travel.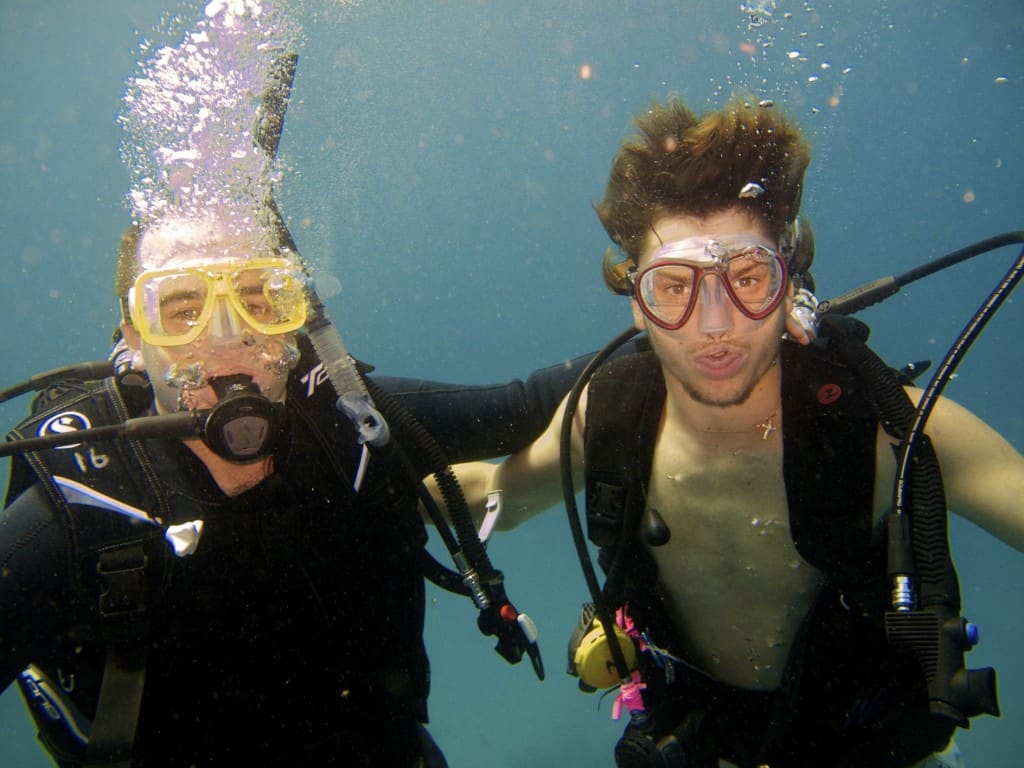 When we finally got off the boat, we literally had land-sickness. For the first couple of days on land, we felt like we were constantly swaying. It was a crazy feeling.
We ended up sticking around in Cairns for another couple of weeks, catching up on some work and checking out the town. We even went back out to Reef Encounter for a another night and a few more dives.
Cairns is a beautiful place with a million options for checking out the reef. We met some great people and had some of the best experiences of our trip.
Have any of you been scuba diving? Share some of your favorite memories and locations in the comments. We would love to hear them.
From here, we booked a flight down the coast to Sydney. Check back to see what we got to do there. =)