Click to view larger size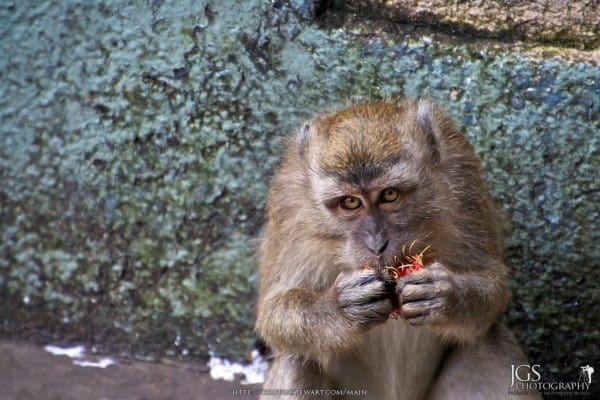 Photo taken using Tamron AF 18-270mm f/3.5-6.3 Di II VC PZD LD Aspherical IF Macro Zoom Lens
One of the fun surprises while visiting Kuala Lumpur, Malaysia, was a half day trip to the Batu Caves. These Caves are located about an hour outside of the city and can be easily reached by public bus number 11 for about $1 per person. The limestone caves are quite unique looking and one of them even has a Hindu Temple in it, while the other can be explored for a fee and it is full of bats. What made these caves especially fun for us was the monkeys that hang out all around the entrances and on the stairs up to the caves. They are very cute and we found out that monkeys really are curious just like the monkey, named George, we read about as children.
This week's travel photo is of one of one of the monkeys eating a Rambutan Fruit. I liked the way he seemed to be hoarding the fruit from the other monkeys and the contrast of the macaque, the fruit and the blue textured wall in the background.
Travel Photo Of The Week Sponsored By Tamron USA.


For more information about Tamron and the lenses we use, check out our sponsors page here.