Click to view larger size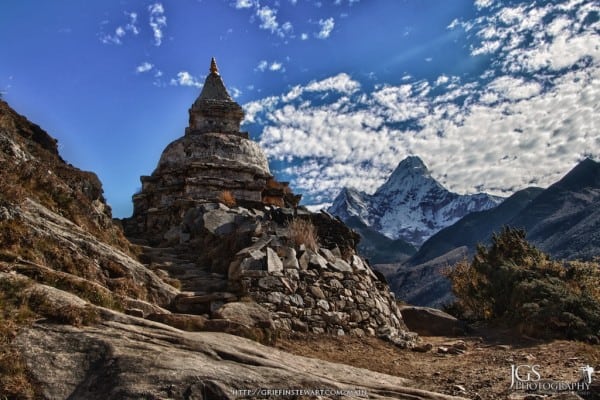 Photo taken using Tamron AF 18-270mm f/3.5-6.3 Di II VC PZD LD Aspherical IF Macro Zoom Lens
As some of you may have known, about two weeks ago we attempted a trek to Everest Base Camp in Nepal.  We ended up encountering a snow storm which kept us from actually making our goal, and Valerie also came down with a case of HAPE requiring us to take a helicopter back to Lukla after trekking for nine days and hiking to within an hour of base camp.  I am working on a post about the whole experience which I will share later, but wanted to share one of the many beautiful views from that area.
The Himalayas are amazingly beautiful and seem to have the cleanest air and water I have seen in the world.  It's hard to get a bad picture up there and at every step we were amazed by the ever  changing breathtakingly beautiful scenery.
This picture was taken on day 5 of our trek shortly before driving in Tengboche for the night.  It is a picture of one of the many Buddhist Stupas along the trail with the beautifully and sometimes deadly summit of Ama Dablam standing at 22,349 feet high in the background.
TECHNICAL INFO: This picture was taken using a setting called Auto Exposure Bracketing which is available on many SLR and some point and shoot cameras.  This allows me to quickly take three differently exposed images – one over exposed, one under exposed and one with the correct exposure.   I used the Velbon UT 43D provide to us by One Source Network for stabilization to make sure here would be no movement between or during the time the picture were being taken.  I then used NIK Software's HDR Effect Pro to merge all the exposures into one image which is more similar to what the human eye can see than what the camera is usually able to capture.
Travel Photo Of The Week Sponsored By Tamron USA.
For more information about Tamron and the lenses we use, check out our sponsors page here.